Businesses are trying hard to stay afloat after the recent Covid19 pandemic and face massive organizational transformation. The difficulties have prompted many to understand how to tackle extreme situations where management operations fail. Most have come up with answers concerning understanding the new workforce and training them to adapt to the new normal. Nearly 75% of employees acknowledged that teamwork and collaboration are essential tools to tackle any workplace issues in the future. Communication skills are crucial for effective performance, and 18% of employees have their skills evaluated after every performance review. However, given the importance of these factors, only 27% get adequate communication training. The question is how one can tackle team development to remain immune to unexpected global crises.
How can Team Building Help New Hires?
The workforce culture, interests, and expectations are all changing according to the environment. It is up to the managers and the leaders of the business sector to provide them with an atmosphere conducive to nurturing their creativity. In this regard, teamwork and team building activities can help them connect more to the work and the company. It can help build relationships where individuals do not view themselves alone but as part of a large spectrum consisting of a skilled workforce. Considering the large amount of work a person has to accomplish, a culture of teamwork can help them increase work efficiency.
A culture of teamwork refers to the character and environment of the workplace. In this workplace, the environment is mainly built on a culture of collaboration where people share information and cooperate to reach their shared goals. Some of the benefits of creating this kind of environment are:
Increased efficiency
Higher employee retention
More engagement
To make it even easier for you, creating an environment conducive to growth is what every company needs at this critical juncture.
Tips that can help in Team Building Exercises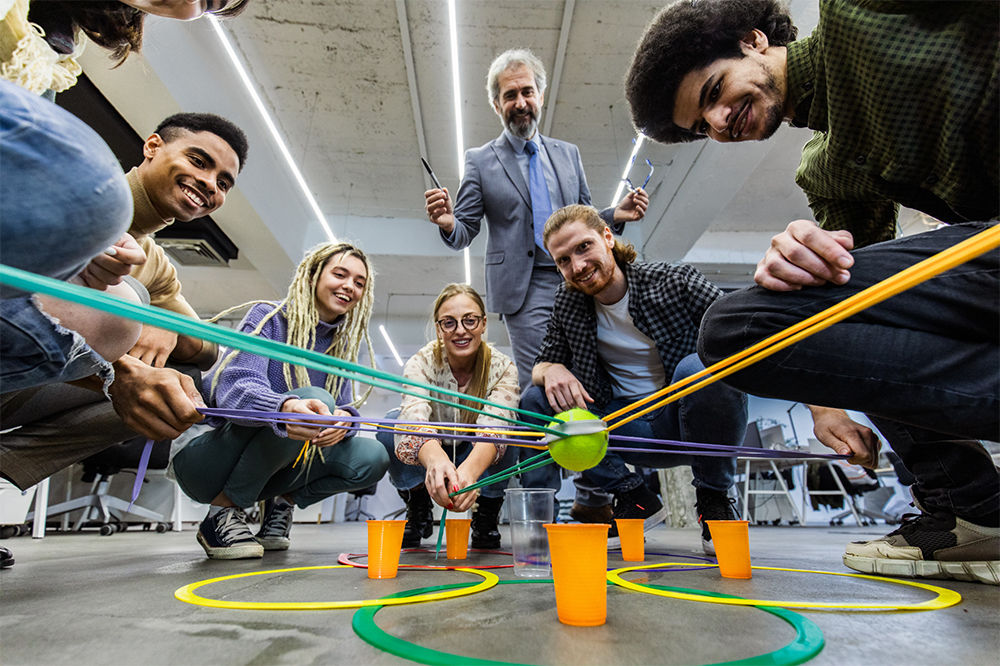 It is always useful to start small and then understand the pace of how things change. Similarly, for team development in your company, here are some tips that can accelerate the team building exercise.
Give Importance to Soft Skills - Most companies focus only on hard skills during the hiring process. No doubt, a candidate comes with all the degrees and the technical knowledge that can be useful to your company but ignoring soft skills would be a severe mistake. Hence, it is vital to develop soft skills through team building exercises to facilitate a seamless sharing of internal information and to build strong collaboration in the company.

Understand the Skill Gaps - Before taking up any training, you must understand the possible gaps in your workforce. Utilize assessment tools like the psychometric test to evaluate the leadership skills in your workforce and how to optimize them further. Analyze and anticipate your company's requirements for the specific skills. Further, it is necessary to remember that reducing skill gaps would benefit the company and its employees.

Study Your Competition - Getting a competitive advantage might not be easy if you do not know your competitors well. For instance, you need to understand what strategy your competitors use when it comes to team building or employee development. Team development initiatives should be based on research, including studying your rivals and the various initiatives they have been taking to build leadership skills in their company.

Analyze Your Future Leaders - You need to provide adequate training and conduct an assessment of the leadership skills of all employees. It will help you understand the ones who stand out from the crowd and can be your future leaders. Train them according to the roles and responsibilities you want them to take up and provide them with assignments that can help them increase their leadership potential.

Connect the Employees to Goals - Make sure your employees are aligned with the company's goals and how they are necessary for organizational growth. Your employees should be shown how crucial they are for achieving the short-term and long-term goals of a company.
Conclusion
Initiating a culture of teamwork in your company can help you, in the long run, to deal with unexpected changes in critical situations. Further, employees will be more efficient if they learn to support each other in a collaborative work environment to achieve desired business objectives.